About the Artist
Animals - the main theme of my work - are an ever present reminder of the existence of unconditional love.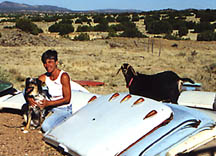 It is my belief that Angels and Santos, or Saints, are symbols of a higher source that watches over, protects and cares for us. My hope is that my sculptures will make you smile and remind you that you never really have to do anything alone. - JANEY KATZ
••••••

To Janey Katz, a junk yard is an art supply store. Parts of cars and an old wringer washing machine have found a home on a plot of land outside her studio, waiting to be transformed into sculpture.

"I develop a sense of what I want to do and start cutting parts," Katz said. "I then take the forms I've cut and arrange them like a puzzle. Parts that don't work well together in a sculpture go into a bucket. Those that do get welded and become a wall hanging." - 1994 THE NEW MEXICAN, Santa Fe, New Mexico
••••••
Folk Art Reborn - Janey Katz creates one-of-a-kind drawings in metal out of junk, found objects and a vivid imagination. From the arroyos nearby she reclaims parts of abandoned cars and trucks, kitchen cabinets, barbed wire fences, pieces of bone and dried cholla cactus. She cuts exuberant figures from the old metals , reincarnating them into whimsical guardians guaranteed to get a smile. - 1996 SUNDANCE CATALOG
••••••
Today, Katz prowls New Mexico's arroyos, junkyards and transmission shops searching for the raw materials that go into her work: faded, sun-bleached automobile hoods and roofs as well as circular metal loops.
"Every Junkyard owner from Farmington to Clovis to Silver City knows me", Katz said during a break from her welding and cutting chores. "Some people treat old cars as erosion control devices, but I look at them and see re-in-CARn-ART."
- 1996 ALBUQUERQUE JOURNAL, Albuquerque, New Mexico
••••••
Every so often, you hear those amazing success stories, the ones where someone leaps and the net really does appear. Well, Janey Katz is one such success story, except that in her version, she has learned to work the net like a trampoline.
The trick, she'll admit right away if you ask, is to stay loose, flexible and O-P-E-N. And never discount anything that falls in your way. Oh, yeah, and be real clear about what you ask for.
When you do, you might make out like Katz. A former waitress, catapulted into unemployment by burned out thumbs (plus feet and voice), sporting a tad of art education, a love of junk, a particular fondness for faded out old trucks, who is hopelessly unable to make decisions. Lo and behold, her blacksmith happened to say one day, Janey, you need a plasma cutter.
"It was like lightning in a box," Katz said of the tool. "I didn't know at the time what I was supposed to be doing. Just that I couldn't be carrying trays anymore. I had been collecting junk, had these old truck hoods and when I got the plasma cutter, first thing I did was carve out a dog." - 1996 THE NEW MEXICAN, Santa Fe, New Mexico
••••••
Katz got the idea for the concept of unconditional love after deciding that animals give it best. So she made a wreath of animals, a wreath with soul.
- 1997, THE NEW MEXICAN, Santa Fe, New Mexico

••••••
Meet Janey Katz. She is a resident of New Mexico and an artist of exceptional talent. Janey creates uniquely beautiful metal sculptures using the sun faded colors found only on old pickup trucks with their original paint still intact. Every sculpture is signed and dated. The year and make that each piece comes from is included. A true artist's artist, these sensational collector's items will also make fascinating conversation pieces. These wall sculptures are ready to hang. No two will ever be exactly alike. - 1998 BLUE RIVER TRADING COMPANY CATALOG
••••••
"We all have guardian angels, even the dogs, cats and birds. All I do is give them a form, a face and a job to do." Each morning artist and designer, Janey Katz, searches abandoned cars and trucks for just the right engine parts, and perfect, sun-faded pieces of metal to create stunning works of art. She signs every piece and labels the make and year of each piece. Guaranteed collector's pieces.
- 1999 J. MARCO GALLERIES CATALOG
••••••
One of a Kind - Accessorize with a sense of humor and a piece of history. Janey hand cuts each pin from the roofs and hoods of old pickup trucks. She individually draws the image directly on the metal with a torch. No two are alike, each piece has it's own personality and pedigree. - 1999 FEMAIL CREATIONS CATALOG
••••••
"All of my work is cut from the roofs and hoods of old pickup trucks. The colors you see were all applied in Detroit in the 50's, 60's, and 70's. I don't paint anything. Everything in my art has had a past life." - JANEY KATZ